Rochdale Council apologises for sex ring failings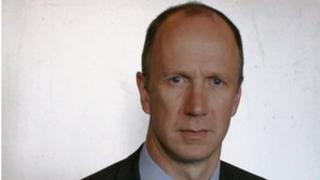 Senior officials at Rochdale Council have apologised for failings that allowed youngsters to be groomed by a sex ring.
Nine men were convicted of running a child sex ring in the town in May.
The council was criticised for "staff deficiencies" in a report by Rochdale's safeguarding children board.
Two heads of child care at the council, who both left after the report was published, have been giving evidence to a government inquiry.
The Home Affairs Select Committee is conducting an inquiry into grooming following claims abuse went unchecked in Rochdale from 2004.
Steve Garner, former head of children's social care, said: "Where children's social care staff have missed opportunities to provide greater protection...I certainly apologise to the young people."
'Patchy' training
He said front-line workers had not identified the risks, adding: "I was aware of individual cases but I certainly wasn't aware, until the police presented a dossier in 2010, of the scale of the issue."
Deficiencies in the way children's social care responded to the victims' needs were caused by "patchy" training of front-line staff, the safeguarding children board found.
The report found that vulnerable young girls, some as young as 10, were being targeted for sexual abuse and written off by those in authority who believed the girls were "making their own choices" and "engaging in consensual sexual activity".
In reality, girls were being raped and often beaten.
It is the second time Rochdale council workers have been called before the committee.
On 6 November, Sara Rowbotham, from the Rochdale Crisis Intervention Team, told members she had made 103 referrals of "incredibly vulnerable" cases to police and social services between 2005 and 2011, which resulted in only nine convictions.
She also claimed girls were still being abused in the town.
'Heart goes out'
Mr Garner told MPs earlier he was aware of 90 cases of child sex exploitation in the town in the last two years, including 15 cases of young people who were in care.
Cheryl Eastwood, the former executive director for children's services, told the committee that despite the recent "very serious and appalling" case, she had not seen any evidence to suggest the problem of child sexual exploitation was worse in Rochdale than other places.
She admitted she had not met any of the victims from the case but offered an apology to them during her evidence to the committee.
"Certainly, things that were done in 2007-08 were poor, very poor. My heart goes out to the young people who got the response they did and I'm very sorry for the way they were treated," she said.
Det Ch Supt Mary Doyle, of Greater Manchester Police, told the committee: "It's not fair to say we did nothing, we did do something, we perhaps didn't do it as effectively as we would have liked to."
She said authorities are now working more closely together to identify potential predators and young people at risk.