Sir Cyril Smith abuse claims: Police forces split cases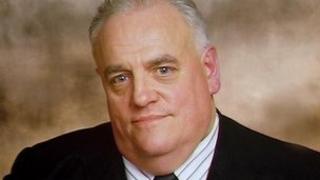 Allegations of sexual abuse by Sir Cyril Smith will be investigated by different police forces, depending on when it was said to have taken place.
Lancashire Police will look at pre-1974 claims, with Greater Manchester Police (GMP) taking on post-1974 inquiries.
Several residents of a Rochdale boys' hostel in the 1960s have claimed they were indecently assaulted by the late MP, when the town was in Lancashire.
Rochdale became part of Greater Manchester's jurisdiction in 1974.
Sir Cyril, who was knighted in 1988 and died in 2010, was the Liberal MP for Rochdale from 1972 to 1992.
Assistant Chief Constable of GMP, Steve Heywood, said the division had been made to "clear up any confusion" around investigations into the claims.
'Records examined'
Sir Cyril's brother Norman said the late MP denied abuse allegations.
Currently, no allegations have been made to GMP about the alleged abuse claims, while the Lancashire force has received one complaint, made by current Rossendale councillor Alan Neal.
Previously, a GMP spokesman had said Lancashire Police was taking the lead in all investigations around the alleged historical abuse claims, with the Greater Manchester force providing support.
However, ACC Heywood said the decision would make it "explicitly clear" which force would investigate which allegations.
"The geographical boundaries were redrawn in 1974 - previously Rochdale was a part of Lancashire Police, but post-1974 it became part of Greater Manchester Police," he said.
"Therefore, to make it explicitly clear, Greater Manchester Police will now investigate any reports of abuse that happened after 1974, and any abuse that happened before that date will be investigated by Lancashire Police."
He also repeated that GMP was examining its records to see if it had been involved in investigating any historical allegations of abuse made about Sir Cyril before.
"There has been a lot of speculation in the media about whether Greater Manchester Police investigated allegations in the 1980s and 1990s [and] we are examining our records," he said.