Sir Peter Fahy says Tony Lloyd must 'fight' for Greater Manchester Police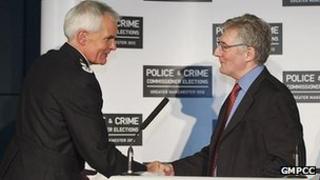 Greater Manchester Police's chief constable has said he expects the new police and crime commissioner (PCC) Tony Lloyd "to fight for GMP".
Sir Peter Fahy said Mr Lloyd's key role was one of "negotiating [with] and influencing" other agencies locally and nationally.
Mr Lloyd said he would "ask [senior police management] to make their case" on what they wanted from him.
He added that "if they don't make the case, then the answer will be 'no'".
Mr Lloyd was elected to the position of Greater Manchester PCC last week in a ballot which saw 13.6% of the electorate cast a vote.
He said the government had done "their best to make sure this election was covered in secrecy" and repeated an accusation of "incompetence" which he made in his acceptance speech on Friday.
"This was a new role that the government brought in but didn't explain why they had done, what the powers of the police commissioner were and why it mattered to the public," he said.
However, he said that having won the election he would "make this work and make it work in the interest of the two and half million people in Greater Manchester".
Mr Lloyd, who served as the MP for Manchester Central for 15 years, said that he had wanted the PCC role because in "all the years I have been a MP, one of the abiding issues that people raised with me was fear of crime".
"That's why I want to work with the chief constable to make sure we have not simply the best police force in Britain but also the safest communities we can manage," he said.
'Influential position'
Sir Peter said he was "very, very clear" that he and Mr Lloyd had to work together effectively.
But he said he did not think the relationship would "feel hugely different" from the one he had with Greater Manchester Police Authority, the body which the PCC has replaced.
"The police authority did do a good job and absolutely held me to account and I think that will continue with the PCC," he said.
"It's a different system and we will make that system work. I think there will be some advantages from having one single person to represent [all of Greater Manchester] and there will be some challenges in that.
He said one of the key roles of the PCC was "negotiating and influencing the other local authorities, the health service, businesses and other organisations".
"We will be expecting him to fight for GMP at a national level with the Home Office [over] resourcing and changes to legislation.
"I do think it will be from that influential position both locally and nationally where the post will prove itself."
Mr Lloyd, who beat four other candidates to win 51.2% of first preference votes in the election, said he intended to "listen to the chief constable and his senior management team, [as] they are the ones who have done practical policing over the years".
"I'm not going to come and say 'get three more people in that squad car' or 'you need the tactical aid unit in this area tonight'," he said.
"That's simply not the commissioner's role - what the role is is to build partnerships across the whole of the communities.
"Policing is massively important in reducing crime, but so are many other agencies."