Salford woman throws away £1k with recycling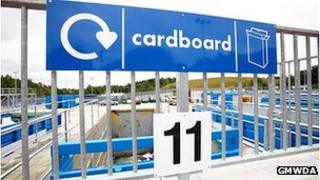 A Salford woman has thanked staff at a recycling centre for finding £1,000 she threw away by mistake.
Nicola McGaughey accidentally included a box containing the money with a batch of recycling she took to Lumns Lane Recycling Centre on Sunday.
When she realised her mistake she contacted the centre, where staff found it in a pile of cardboard which was being prepared for recycling.
Ms McGaughey said she could not believe she "threw away all that cash".
She added that she was "very thankful for the extra effort the staff made to find it for us".
A spokeswoman for Greater Manchester Waste Disposal Authority, which runs the centre, said finding the money had been "a whole team effort".
She said: "After Nicola reported the loss, staff leapt into action, identifying the recycling bay number, locating the vehicle used for collection of the cardboard and finally tipping the load at the transfer loading station so it could be searched."
Garry Bigland, the centre manager, said Ms McGaughey had been "obviously very upset by the situation as it was a significant sum of money".
He said: "We were just glad we found it in time."