Sir Cyril Smith: Accuser 'left in tears' after 'abuse'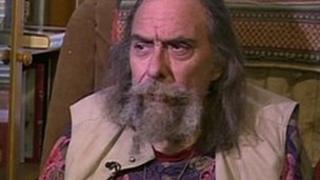 A man who claims he was abused by Sir Cyril Smith while in care in the sixties says he was left in tears by the alleged incident.
Barry Fitton is one of three alleged victims to come forward with claims Sir Cyril abused them while they were at a Rochdale care home.
Mr Fitton, who first made an abuse allegation in 1979, said the former MP smacked him and stroked his buttocks.
Sir Cyril's brother said the late politician had denied the allegations.
Police have urged anyone who believes they were the victim of sexual abuse by Sir Cyril to come forward.
On Tuesday, Rochdale's present MP Simon Danczuk told the House of Commons that a "full investigation" into allegations against Sir Cyril must take place.
Mr Fitton, who now lives in Amsterdam, said Sir Cyril had held a disciplinary role at the care home while he was in care there from 1962.
He said if boys misbehaved at school or in a work placement, it was reported to Sir Cyril, and that he had fallen foul of this system when, aged 16, he and another boy went "to Manchester instead of going to work".
"When we got back, Cyril Smith was waiting and I was taken into the front room.
"He said: 'You've got to be punished, take your pants down' and he bent me over his knee.
"He spanked me very, very hard - I was in tears and I asked him to stop.
"After that, for quite a long time, he was stroking my bottom and touching me, saying: 'There, there. It's for the best'."
Mr Fitton, who waived his right to anonymity, added the punishment had been "obviously" sexual and that he had been left feeling "ashamed".
He made his allegations in 1979 after telling a baptist minister what had happened to him at the home.
The minister, who also ran a small independent newspaper, printed the allegations after Mr Fitton signed a sworn affidavit describing the abuse.
Mr Fitton also said that he could not understand why a Lancashire Police investigation into earlier allegations in the 1960s - not involving Mr Fitton - had not led to Sir Cyril being prosecuted. He also stated that he was contacted by Greater Manchester Police (GMP) in the 1990s about the allegations.
'Aware of reports'
Sir Cyril, who was knighted in 1988, was the Liberal MP for Rochdale from 1972 to 1992.
His brother Norman said the resurfacing of the allegations has been "very painful".
A Lancashire Police spokesman said an investigation was "believed" to have taken place in the 1960s, but "no records are held".
GMP Assistant Chief Constable Steve Heywood said the force was "aware of reports that GMP may have investigated allegations of sexual abuse involving the late Sir Cyril Smith in the 1980s and 1990s".
He said officers were "examining our records to see what involvement Greater Manchester Police may have had", before adding that the age of the allegation "predate our computerised records, so it will take some time to establish what, if any, the force's involvement was".