Thieves cut legs off sheep on Stockport farm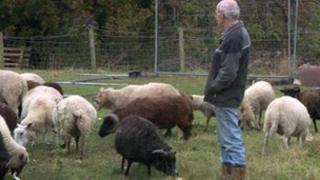 Thieves sliced the legs off live sheep during "barbaric" night time raids, a Stockport farmer has said.
Three attacks have been reported to police during the past month at Lion House Farm, Cheadle Hulme, with a total of 11 sheep killed.
Farmer William Perkins said: "Some of these, we suspect had their back legs cut off while they were still alive."
The flock of about 70 rare breeds includes pregnant ewes. Greater Manchester Police are investigating.
Only animals younger than two years old were targeted, with their carcasses left for the farmer to find.
Mr Perkins added he had "never heard of anything like it before".
"You hear of sheep being killed either by accident or by dogs, but never having their back legs cut off."
The farmer said he believed his animals, which include black Welsh mountain, Hebridean and Portland were rounded up by dogs.
Insp Stephen Gilbertson said: "Whoever is responsible has gone to a lot of trouble - the sheep were not even taken away, but attacked in the field.
"The area is now on our nightly patrol plan and we could also use plain clothes officers."