Oldham parents could face school parking fines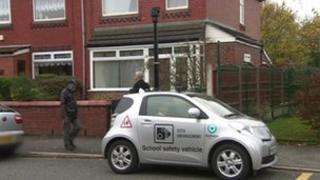 Parents who park dangerously outside schools in part of Greater Manchester could face £70 fines if caught by a dedicated 'school safety' CCTV car.
The car has been patrolling schools in Oldham since 5 November and sending warning letters to drivers caught parking illegally.
From Monday, Oldham Council will start sending £70 fines to drivers caught breaking the rules.
Children are being put in danger by thoughtless drivers, the council said.
The crackdown is part of an attempt to cut accident rates, after 53 children were injured on roads across Oldham in 2011, the authority said.
Councillor Dave Hibbert, cabinet member for housing, transport and planning, said: "Many local schools and residents suffer from the behaviour of thoughtless drivers who opt to use restricted zones when dropping off and collecting children.
"Zig zag lines are outside our schools for a good reason - they're there to keep pupils safe by creating a sight line that enables them to see and be seen before crossing the road.
"Vehicles parked in restricted areas can hide children trying to cross the road, potentially putting them in danger."
When the vehicle is not in use during school start and finish times, it will be deployed in other areas affected by problem parking.