Muggers beat up pensioner for 10p in Radcliffe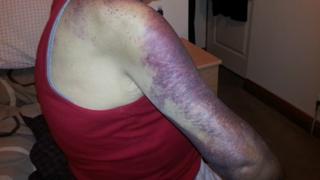 An elderly man was severely beaten by muggers in Greater Manchester after they searched his pockets and found just 10p.
The 69-year-old was attacked by three young men as he walked along Milltown Street, Radcliffe.
They demanded cash and when he handed over 10p he was punched, police said.
The victim remains in hospital following the attack at 10:30 GMT on 29 October and police have appealed for any witnesses to contact them.
The victim, who did not want to be named, had been to buy his morning newspaper on Stand Lane when the attackers, who were riding BMX bicycles, struck.
Det Con Danny Whitaker said: "This man is very poorly in hospital - that is why his family have agreed to release pictures of the very severe bruising he sustained to his arms, and also his face, which shows the sheer ferocity with which this man was attacked.
"This man was simply minding his own business. He was on his way back home to read his newspaper with just 10p in his pocket and was needlessly set upon by his attackers.
"It is a totally senseless crime and I would therefore urge anyone who has any information to search their conscience and if they do know something, they should call us."