Greater Manchester Remembrance Sunday services take place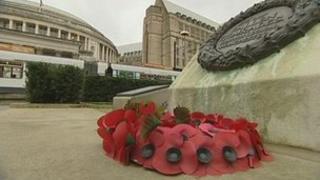 Remembrance Sunday memorial services have been held in Greater Manchester.
In Manchester servicemen and women in uniform marched from the town hall in Albert Square to the Cenotaph in St Peter's Square.
They were joined by representatives from the Navy, Army, Air Force, Royal British Legion, Duke of Lancaster's Regiment and Reserve Forces.
The Lord Mayor of Manchester, Elaine Boyes, and faith leaders also took part in the procession.
After a two minute silence at 11:00 GMT at the Cenotaph the procession returned to Albert Square for the march of service organisations.
Ms Boyes said of the Remembrance Sunday service: "It gives us time to reflect on past and present conflicts and is a chance for us all to express our respect for the men and women that have given their lives in the fight for freedom.
"It is an honour to meet with members of the armed services and faith leaders to mark this solemn day with the people of Manchester."
Metrolink services to Manchester were replaced by buses while the Remembrance services took place.
In Salford a new war memorial has been put up in Prince's Park to commemorate Fusilier Simon Annis from Irlam.
Second explosion
He died with Fusilier Louis Carter, of Warwickshire, while carrying an injured colleague L/Cpl James Fullarton away from an explosion in Afghanistan in July 2010.
All three were killed instantly by a second explosion.
Other services which took place including ones in Bolton and Rochdale.
The Imperial War Museum North hosted the first major performance of music composed by Clockwork Orange author Anthony Burgess.
The piece by Burgess, who was born in Manchester, was thought lost for more than 60 years until it was re-discovered last year.
He wrote the piece while serving during the World War II and dedicated it "To The Fallen".
Burgess grew up in Manchester's Hurphurey and Moss Side and was educated at Xaverian College and Manchester University.