Bogus weddings: Three jailed at Manchester Crown Court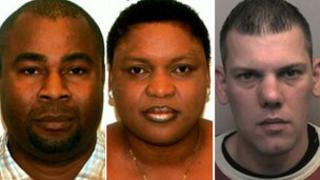 Three people who took part in a series of bogus weddings have all been jailed.
Kazeem Adeeyo, 44, and his partner Jadesola Gabriel, 32, both Nigerians living in Manchester, admitted entering into sham marriages with other people.
Adeeyo married a woman in March 2009 at St Paul's Church, Salford, and Gabriel married Hungarian Akos Szirbury, 35, in Carlton, Nottingham in October 2008.
Szirbury and Adeeyo were sentenced to 11 months and Gabriel to six months in prison at Manchester Crown Court.
All three pleaded guilty to assisting unlawful immigration at an earlier hearing.
Dave Magrath, head of the UK Border Agency crime team in the North West, said: "All three showed a complete disregard for our immigration laws and today have paid the price for trying to cheat the system.
"The UK Border Agency is taking strong action to crack down on sham marriages nationwide. Our message could not be clearer - we will not tolerate immigration abuse and offenders will be caught and face justice."