Shot PCs Nicola Hughes and Fiona Bone honoured in charity bike ride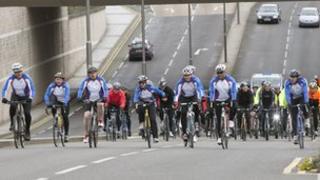 Eighty police officers and staff took part in the last leg of a 190-mile charity bike ride in memory of shot PCs Nicola Hughes and Fiona Bone.
The two Greater Manchester PCs were killed when they were called out to a burglary on 18 September.
Nine Metropolitan Police officers started the trek at Westminster on Tuesday, and Greater Manchester officers joined them for the final leg.
Donations so far total £6,000 for the North West Police Benevolent Fund.
The group of 80 current and former officers and staff set off from Buxton police station at 07:00 GMT and arrived at the finish line at Greater Manchester Police headquarters at about 11:00 GMT.
The families of PCs Hughes and Bone thanked those who took part in the bike ride.
Bryn Hughes, father of PC Hughes, said: "To see such overwhelming support from police service staff from every part of the country has been humbling to say the least.
"Nicola was proud to serve alongside such people and would have been immensely touched at the level of support offered to us, her family, at this sad and tragic time."
Paul Bone, father of PC Bone, said: "I know that Fiona would have liked to join you - at least on the last stage of the journey.
"The cyclists who rode to Manchester are the face of today's police, prepared to give their efforts for someone they did not know, but who were part of the greater police family. Their efforts are greatly appreciated."
PC Damian Goddard-Lane, of the Metropolitan Police Hillingdon Partnership Tasking Force, said: "This has enabled us to support to our wider police family and bring people together during a difficult time while raising money for a charity that frequently gets forgotten.
"We are saddened with what has happened and our thoughts remain with PC Bone and PC Hughes' families, friends and colleagues."