Sabina Akhtar inquest: Authorities 'possibly' at fault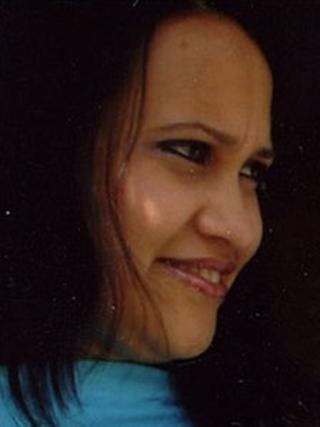 Police, prosecutors and social services "possibly contributed" to the death of a woman murdered by her husband, an inquest has found.
The jury at Manchester Coroner's Court recorded a narrative verdict on Sabina Akhtar, 26, who was stabbed by Malik Mannan at their home in 2008.
Ms Akhtar had previously told police about violent attacks by Mannan.
Manchester Coroner Nigel Meadows said officers had failed to investigate those complaints.
There was also criticism of the Independent Police Complaints Commission (IPCC) for not carrying out a full independent investigation into the handling of the case by Greater Manchester Police.
And Manchester social services was accused of taking insufficient action and depriving Ms Akhtar of support.
Out on bail
The inquest had previously heard Ms Akhtar had told police about a threat by Mannan to "get a knife and slaughter you" two months before she died.
He was arrested but placed on police bail, on condition he did not approach Ms Akhtar.
Mannan, 36, was arrested again four days before the murder for breaching bail conditions put in place following the death threats but was released without charge.
Det Ch Supt Mary Doyle, from Greater Manchester Police, said the case tragically demonstrated the risk posed by perpetrators of domestic abuse.
"There needs to be a far stronger presumption in favour of remanding alleged offenders of domestic abuse in custody until a thorough assessment has been made of the threat they pose to their victims," she said.
"Even if a charge for Mannan had been authorised, given the nature of the offence Mannan was highly likely to have been given bail at some point and therefore would have been at liberty to subject Sabina to further risk of harm."
Struggle 'vindicated'
The inquest was told the Crown Prosecution Service (CPS) had decided not to prosecute Mannan after he was arrested for assaulting his wife, as it had considered it "one person's word against another".
Mannan was then released and went on to kill Ms Akhtar, who was stabbed through the heart at their home in Charlton Road, Levenshulme.
He was jailed for life in March 2009.
The inquest was ordered to be reopened in 2011 because of human rights concerns.
Matthew Gold, a solicitor representing Ms Akhtar's family, said the decision "vindicated" their long struggle to establish serious failings by the authorities.
He said: "The family hope that procedures have and will continue to improve to ensure that the failings are not repeated and the victims of domestic violence are better protected which results in a saving of lives."
Ms Akhtar had a son who is now in school in Bangladesh and being cared for by his grandfather and extended family.
Sandra Horley, from the domestic violence charity Refuge, said: "The coroner has clearly sent a strong message that the state has a duty to protect abused women - vulnerable women who live in daily fear of domestic violence.
"We sincerely hope lessons will be learned from this and that agencies will learn to communicate better between one another, to train their staff to deal with the problem of domestic violence appropriately, to do whatever they can to protect women and children."