Salford firework explosion: Victims' mothers in ban call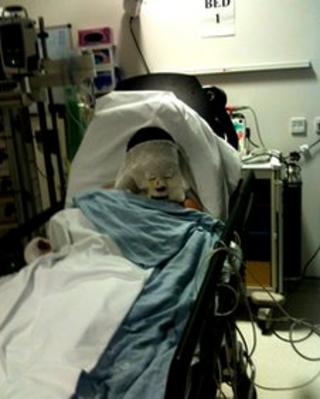 Two mothers have called for a ban on fireworks after their sons suffered severe burns in an industrial firework blast in Salford.
The 10 and 11-year-old boys both suffered burns to their hands and face, a Greater Manchester Fire and Rescue Service spokesman said.
The boys, and other children, were playing with the firework in Cumbrae Gardens at about noon on Thursday.
Greater Manchester Fire Service is investigating the incident.
The firework involved is thought to have been an "onion bomb" - a highly explosive firework used for displays which is not legally on sale to the general public.
A second "onion bomb" was found by firefighters on the same street the following day.
Geoff Harris, head of protection at the fire service, said: "We are extremely interested in how this firework ended up in a street where children were able to play with it."
'Peeling skin'
Vicky Stephenson said her 11-year-old son Dale Scott was doing penny for the guy with his friends when she got a call from him "screaming" that he had been injured.
"He was hysterical because he was burning and they put him on morphine when we got to the hospital," she said.
"He's lost his hair, eyebrows and eyelashes and got burns on his hands, his skin is peeling off.
"Fireworks should be banned. They need to stop coming into the country because they are just so dangerous."
The mother of the other boy, who did not wish to be named, said: "I just don't know how onion bombs and industrial fireworks can get into the wrong hands."
In a separate incident, a 12-year-old boy suffered burns to his leg when a firework came out of its casing after it had been lit on George Street, Heywood.
Greater Manchester Fire Service said an adult had been lighting shop-bought fireworks on open land when a firework seemed to stray off course after being lit.
A spokesman said the Heywood incident was "an accident" and the fire service had since visited the child's school to discuss the dangers of fireworks.