Fire at bakery in Manchester's China Town forces evacuation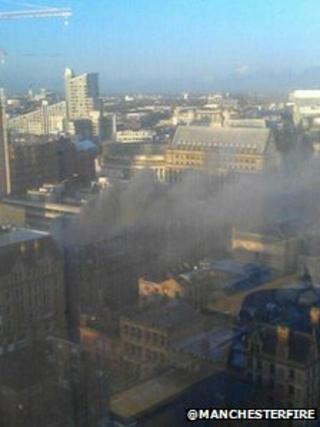 Fire crews are damping down after a fire in Manchester's China Town forced the evacuation of city centre flats.
Firefighters were called to the Wong Wong bakery on St James Street at 07:30 GMT after a woman reported smoke entering her flat above the premises.
The woman who had a five-month old baby was found unharmed and both were led to safety.
A Greater Manchester fire service spokesman said no-one had been injured but more than 20 people were evacuated.
Station manager Ben Levy said the fire was under control but crews would remain to strip out the area where the fire started.
Crews from Manchester Central, Salford, Philips Park and Hyde were called to the fire, in the China Town area of the city.
Princess Street and St James Street were closed to traffic but have since reopened.