Sabina Akhtar inquest: Family blamed the authorities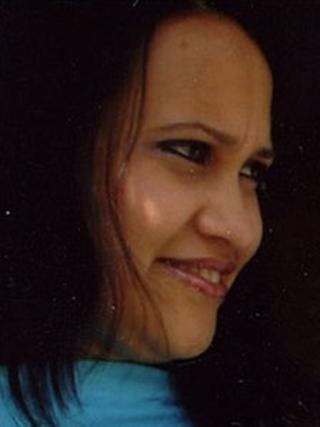 Sabina Akhtar's family have no doubt that she would still be alive if her violent husband Malik Mannan had been charged with assaulting her.
Ms Akhtar, 26, was stabbed through the heart by Mannan at their Manchester home in September 2008, four days after he was released without charge for breaching bail conditions.
The conditions were imposed following her allegations of death threats he made two months earlier.
Mannan was subsequently jailed for life in March of 2009 for murdering his wife.
The jury at her inquest at Manchester Coroner's Court returned a narrative verdict on Friday.
Coroner Nigel Meadows concluded that the failings of Greater Manchester Police, the Crown Prosecution Service and Manchester Social Services "possibly contributed" to Ms Akhtar's death.
The inquest, which lasted three weeks, was reopened in 2011 amid concerns that Ms Akhtar's human rights had been breached.
The backdrop to the case has been the contention of Ms Akhtar's relatives that "stupidity, lack of organisation and inertia" on the part of Greater Manchester Police had contributed to her death.
A statement issued after the hearing by her family said: "Sabina's family, especially her father and siblings, welcome the coroner's findings and hope that they result in the better protection of the victims of domestic violence."
Ms Akhtar had contacted police two months before her death complaining that her husband had assaulted her and threatened to kill her.
She told police she was suffering from "mental torture" and that her husband had told her "you have to listen to me, your opinion does not matter here. One day I will kill you".
Mannan was questioned and rearrested after breaching his bail conditions four days before he killed Ms Akhtar on 12 September 2008, but he was released and continued harassing her.
The Crown Prosecution Service (CPS) apologised to her family before he was sentenced, on 6 March 2009 saying it had been "wrong" not to charge him.
But Greater Manchester Police denied failing Ms Akhtar, describing the case as "absolutely tragic".
In 2009 chief constable Sir Peter Fahy said: "I don't think we got it wrong.
"We attended that address a number of times, we gave a lot of support to that victim, we provided an interpreter."
In a statement released after the inquest verdict Det Ch Supt Mary Doyle said the force noted the coroner's findings, adding: "We do accept that the handover of the original file of evidence following Mannan's arrest was mishandled, and this matter has been addressed internally by our Professional Standards Branch."
She added: "There needs to be a far stronger presumption in favour of remanding alleged offenders of domestic abuse in custody until a thorough assessment has been made of the threat they pose to their victims.
"Even if a charge for Mannan had been authorised, given the nature of the offence Mannan was highly likely to have been given bail at some point and therefore would have been at liberty to subject Sabina to further risk of harm."