Manchester's plans for 'hanging gardens' on disused viaduct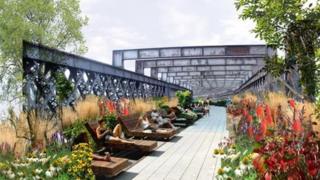 Plans have been unveiled for a New York-inspired "hanging gardens" stretching along a derelict Victorian viaduct in Manchester city centre.
The proposal, announced by architects BDP, is to open the disused Castlefield Viaduct as a raised walkway lined with flowers, trees and seating areas.
Viaduct Park will connect Potato Wharf with Manchester's Science and Industry Museum and Central Convention Complex along a 400m (1312ft) route.
The idea follows the success of Manhattan's High Line, which has encouraged regeneration and become a hit with tourists visiting New York.
Ian Christie, secretary of the Castlefield Forum, a group of local residents working with architects on the plans, said an idea to use the space as a walkway initially emerged 16 years ago, but the plans fell through due to funding issues.
"As it's a Grade II-listed structure it has to be maintained - it can't be knocked down, but it is fairly derelict.
"It could hopefully be a walkway with a cafe, herb gardens, allotments for residents wanting to grow their own produce - the possibilities are endless."
The group believes the project could realistically be achieved over the next 10 to 15 years.
Mr Christie added: "Manchester as a whole is often said it lacks substantial green space, so this is an opportunity very close to the city centre to provide some.
"I think the idea to make a park in the air would also bring in a lot of tourists."
'Exciting vision'
Since opening in 2009, the High Line in New York has become the city's second most visited cultural venue, attracting about four million visitors a year.
Along the route of the High Line, there has been an estimated $2bn (£1.25bn) of new economic activity.
The Promenade Plantee in Paris was thought to be the first elevated park, built in 1986 on an old railway line in the east suburbs of the city.
The idea has since appealed to other cities, with plans for a park on top of old railway arches also being considered at the Bishopsgate Good Yard in East London.
Darrell Wilson, a landscape architect who has been working on the Manchester project, described the Castlefield plans as an "exciting vision".
He said: "The viaduct is not being used at all, and we thought there would be real value in bringing it to life.
"We were inspired by the New York High Line, it has done phenomenally well and the revenue that it has created has just gone through the roof, so it's a good precedent in how to do it successfully."
The National Trust confirmed it was in talks with the forum about possible opportunities to work together on the project.
A spokesperson said: "The National Trust aims to increase its role in Manchester and as a result is developing a number of strategic partnerships across the city.
"We are in talks with a number of organisations about the possible contribution by the National Trust to urban green space in Manchester and are considering a variety of projects which could potentially lead to prospective partnerships."
The viaduct is currently owned by the British Rail Board (Residuary) Ltd.
It was initially built as part of the Great Northern Railway Company's goods warehouse, which was completed in 1899.
The wrought iron lattice design, built on circular hollow pillars, may be familiar to Metrolink users as the site runs close to tram lines.
Mr Wilson said the viaduct would be more than just a nice area for visitors to the city to go.
"There's a real drive to make Manchester more sustainable, so it's not just an aesthetic thing, it's got a number of layers of interest to it on a social level, environmental and economic level as well," he said.