Trafford Council backs £15m Altrincham upgrade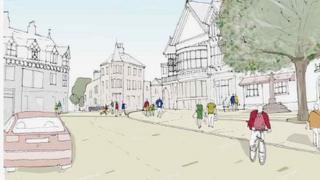 A £15m facelift for Altrincham town centre has been approved by Trafford Council's Executive.
Councillors voted on Monday evening for the creation of a new Market Quarter and a "more welcoming town centre".
The scheme has been developed by Altrincham Forward, an alliance of local residents, traders, North West businesses and Trafford Council.
The plans include a refurbished marketplace, pedestrian friendly streets and a purpose-built library.
'Significant step'
This decision means that Trafford Council will begin developing the plans in more detail, exploring working arrangements with property developers Citybranch and commissioning designs for the refurbishment of Altrincham market and the surrounding area.
Councillor Matt Colledge, Chair of Altrincham Forward and Leader of Trafford Council, said: "This is a major agreement and a significant step on the road to revitalising Altrincham.
"Our aim is to increase footfall, provide better community facilities and improve business performance for everyone, from market traders to national retailers and for our local bars and restaurants."
The proposals will be on display in the local library, shops and Altrincham Town Hall for 30 days.