Madchester Guitar signed by rock stars sells for £6,600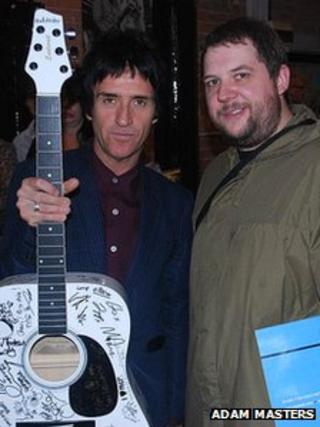 A guitar signed by some of the biggest names in Manchester's music scene has sold for £6,600 in a charity auction.
The Madchester Guitar, which was sold through online auction site eBay, was covered in signatures from the likes of the Stone Roses, Oasis and Buzzcocks.
It was the brainchild of Adam Masters, who said he was "really made up because it's for such a good cause".
The money will benefit Claire's House Children's Hospice in Wirral and Manchester's Francis House.
The idea for the guitar came after Mr Masters' friend's daughter, who was the same age as his own daughter, died.
'Really exciting'
"It really hit home and made me take stock and made me want to do something for charity," he said.
"I thought I could use my contacts in the music business to do some good."
It took two years to get all the signatures, but he said musicians had been more than happy to get their name on the instrument.
"Every single artist I've asked to sign the guitar [was] dead happy to get involved. Not one said no," he said.
Amongst those who signed the guitar were The Smiths' guitarist Johnny Marr, DJ Mary Ann Hobbs, rapper MC Tunes and Nationwide Mercury Prize winners Elbow.
The sale was in aid of chART, a charity which raises money to bring the arts to children with life-limiting conditions in hospices.
Mr Masters said he so loved the work they do that he chose to give the money raised at auction to them.
chART's Suzanne Price said the auction had been "really exciting for us".
"It has been the most high-profile auction we have done so far," she said.