Rio Smedley trial: Daniel Rigby 'used extreme violence against toddler'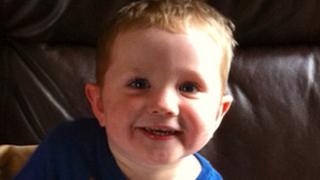 A man accused of killing a two-year-old boy "set about him with extreme violence", a court has been told.
Daniel Rigby, 23, of no fixed abode, has denied murdering his girlfriend's son Rio Smedley, who died on 22 April.
At Manchester Crown Court, prosecutor Simon Phillips QC said Mr Rigby made a "wicked attack on a defenceless child".
Mr Rigby said he would "never hurt" the child and said Rio's mother Kirsty Smedley was responsible for some of his injuries.
Ms Smedley, 24, denies allowing or causing the death of a child.
Mr Rigby was accused by prosecutor Simon Phillips QC of "trading in lies" in claiming Rio had died after falling down stairs at a house where the defendant was looking after the child.
Mr Phillips said a medical expert had previously testified the toddler's injuries could not have been caused by a fall and were likely to have been the result of punches, kicks and stamping.
Mr Rigby said that was "not what happened".
"I did not beat that kid up that day. I didn't do anything to him. I would never hurt Rio," he said.
'Clinically dead'
Questioned about why he had waited to call for an ambulance after the boy fell down the stairs and had instead used the time to arrange a visit to his sister's house to smoke cannabis, Mr Rigby said the toddler had been smiling when he found him.
He said it was only once his mother returned home two hours later that he had taken a turn for the worse and the emergency services had been called.
Mr Phillips said the toddler had been "effectively clinically dead" when the paramedics arrived.
Mr Rigby said his condition had changed quickly and he "stopped moving when Kirsty was on the phone to them".
Mr Phillips also asked Mr Rigby about the report by a neighbour that a "thud" had been heard coming from the house at about 16:30 BST on the day Rio died.
The defendant denied the prosecutor's claim it had been the "noise [of] you striking Rio with such force as to split his liver in two".
No explanation
A post-mortem examination revealed Rio Smedley had died from a ruptured liver and had 91 separate marks of injury on his body.
These included 40 bruises and cuts to his head and face, 11 bruises and cuts to his abdomen, seven bruises and cuts to both his arms and 20 injuries to his legs and feet.
Mr Rigby, who admitted smoking cannabis while looking after Rio, said he had no explanation for Rio's injuries but said Ms Smedley "must have made" a large bruise on the boy's buttock "because I didn't".
Ms Smedley sat shaking her head in the dock as Mr Rigby gave his evidence.
The case continues.