Rochdale Pioneers Museum opens after £2.3m revamp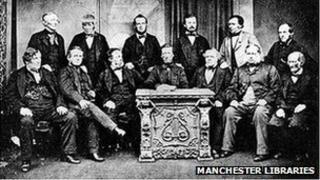 A museum housing the "spiritual source of the co-operative movement" has reopened after a £2.3m renovation.
The revamp of Rochdale Pioneers Museum has included conservation work and the addition of new learning spaces.
The museum, which opened in 1931, is housed inside a shop on Toad Lane where the movement began in 1844.
International Co-operative Alliance president Dame Pauline Green said the refurbishment would "help inspire today's and tomorrow's co-operators".
The upgrade to the museum has also seen educational staff recruited to work with schools and colleges.
It has also seen the addition of new displays of images and artefacts which have previously been held in the museum's archives.
The building at 31 Toad Lane was used by the Rochdale Society of Equitable Pioneers from 1844 to 1867, when the group moved to larger premises nearby.
The Pioneers were a small group of textile workers who decided to make a stand against the capitalist ideologies of the Industrial Revolution.
During their time at 31 Toad Lane, the group wrote a list of rules - the Rochdale Principles - which set down guidelines on equality, political neutrality and trading.
These rules were later taken up by first the British co-operative movement and later the International Co-operative Alliance, an organisation which represents co-operative organisations across the world.
Dame Pauline said the museum was "regarded as the spiritual source of co-operation throughout the world".
"I am sure it will help inspire today's and tomorrow's co-operators and demonstrate how co-operation can help build a better world," she said.