Picasso's Footballeur goes on show in Manchester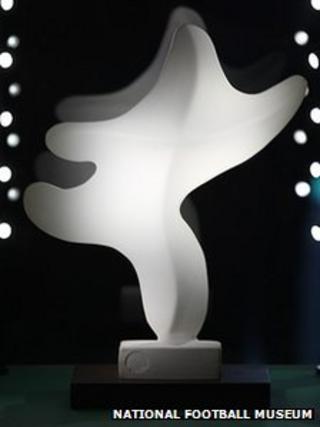 A statue of a footballer by Pablo Picasso has gone on display at the National Football Museum in Manchester.
Footballeur is a 28cm (11 inch) ceramic sculpture by the Spanish artist, which has been loaned to the museum by collector Mark Briere-Edney.
A spokesman for the museum said Picasso was well known for his love of football and the statue had been given "pride of place" in the centre of the museum.
Museum director Kevin Moore said it was a "stunning work in every sense".
Footballeur, which was created in 1965, was one of several works to feature the sport that the Spanish artist produced in the early 1960s.
Mr Moore said the museum was "honoured to provide a new home for this fantastic ceramic".
"It's a stunning work of art in every sense and should provide a really unique talking point for visitors," he said.
The National Football Museum opened at its new Manchester location in July following a move from its original site in Preston.