Olympic and Paralympic homecoming in Manchester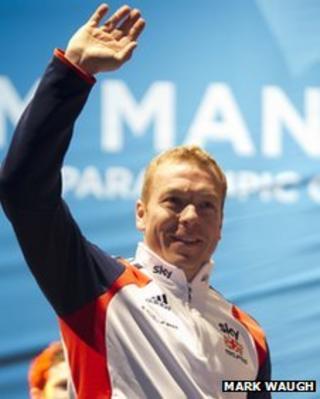 Hundreds of well wishers turned out to welcome home Manchester's Olympic and Paralympic heroes.
Cyclists Sir Chris Hoy, Britain's most successful Olympian, and Sarah Storey were among the gold medallists at the celebration party in Albert Square.
The homecoming also celebrated those who supported the 2012 Olympic and Paralympics Games including coaches, volunteers and torchbearers.
Manchester-based Hoy made a special thank you to the city at the ceremony.
He thanked the people for their support which "means so much" and he said without the Manchester Velodrome facilities Team GB Cycling would not have had the success it has.
Happy birthday
Hoy, who has won six Olympic gold medals, said: "We have a lot to thank Manchester for."
It was a double celebration for Sarah Storey who won four golds in cycling at the 2012 Paralympic Games.
She was celebrating her 35th birthday and the crowd sang happy birthday to her.
Councillor Rosa Battle, Manchester City Council's executive member for arts and leisure, said the turnout was "fantastic".
She said: "[The] homecoming celebration was a wonderful event and hopefully will inspire a new generation to take part in sport and even compete at Rio 2016."
Greater Manchester-based athletes won a total of nine Olympic golds, accounting for almost a third of the 29 Olympic golds won by Team GB, and 16 Paralympic golds.
More than 1,000 Manchester volunteers and staff supported operations at the Games.
As well as athletes showing off Team GB's medals, highlights from the Games were shown on a big screen in the square.
The finale for the party was a fireworks display.