Edgworth farmer admits causing suffering to horses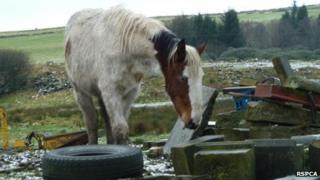 A farmer has been ordered to pay £85,000 after he admitted causing pain and suffering to 16 shire horses on a Lancashire farm.
Philip Davies, 65, of Plantation Road in Edgworth, near Blackburn, admitted 56 charges part-way through a trial before magistrates.
One of the horses had to be put down and others were treated for severe mange and infections.
RSPCA officers are now seeking new owners for 14 of the horses.
The animals were kept in a muddy and overgrazed field full of hazards and were suffering from bacterial contamination of the hooves as well as liver damage from eating ragwort, lice and mite infections, the RSPCA said.
Banned for life
Officers visited the farm after a horse fell down a muddy bank and advised Mr Davies to make improvements but when he failed to do so the horses were taken into police possession.
RSPCA chief inspector Cathy Hyde said: "We tried to work with Mr Davies and, despite initially complying with our advice, it became apparent that he wasn't going to make the necessary improvements to the environment.
"Sadly he failed these horses, allowing them to suffer as a result of his actions or lack of them.
"Finding somewhere new to keep so many shire horses is no easy task and we gave him every chance, but in the end it was necessary for us to go down this route."
Blackburn magistrates banned Mr Davies from keeping horses for life and sentenced him to 300 hours of community work, as well as a 12-week curfew order between 20:00 and 07:00.
He was ordered to pay the RSPCA costs of £85,763.