'Lost' Beethoven work debuted in Manchester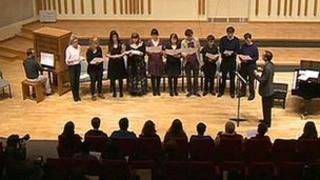 The debut of an unknown Beethoven work has been called "amazing" and "great" by those that witnessed it.
The 192-year-old arrangement was debuted at the University of Manchester after being discovered by one of the institution's professors.
Ava Podgorski, who sang in the performance, said the experience was "absolutely fantastic".
Audience member Matthew Church said it showed there was "still a lot out there to learn about Beethoven".
The performance at the university followed the discovery of the two-minute organ harmony by Professor Barry Cooper in a sketchbook owned by Ludwig van Beethoven.
The piece is an arrangement for the 1,000-year-old Gregorian hymn, Pange Lingua.
Prof Cooper took charge of the performance, conducting an ensemble of music students at the institution's Martin Harris Centre.
Premiere 'fantastic'
Ms Podgorski, a music student from York, said it was "really amazing" and "a great way to start the year".
"We were sent an email at the start of term and asked if we would like to be involved and I said absolutely - to be involved with a premiere of Beethoven is fantastic," she said.
Fellow student James Black, from London, said it was an "interesting" piece to perform and that he was "proud" to have sung it.
"I've sung quite bit of Beethoven before, but you'd never expect anything like that," he said.
"It was special, because it's rare that a new piece of Beethoven is discovered and very rare that you would get to actually perform it."
Mr Church, a student from Milton Keynes, said the performance had been "great".
"There was a real sense of occasion and it was really a show," he said.
"It shows everyone out there that there is still a lot out there to learn about Beethoven, a composer who there has been a lot of research done on.
"For that alone, today was quite a big deal."