Police in Salford seize 'unusual' mini-Uzi machine gun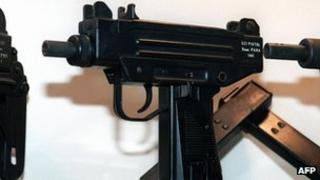 A mini-Uzi machine gun has been recovered in Greater Manchester by police in an "unusual" discovery that will have "saved people's lives".
The gun was found with live ammunition by officers investigating an attempted robbery in Broughton Park, Salford.
An incident was reported on Coke Street West, at about 22:50 BST on Wednesday.
As police arrived, two men fled and one dropped a bag containing the gun in an alleyway leading to Seymour Road, after officers gave chase on foot.
The offenders, who were wearing dark clothing, managed to escape.
Not fired
Police are appealing for anyone with information about the incident to come forward, with forensic experts examining the fully automatic weapon.
No one was injured during the attempted robbery or during the police pursuit.
Supt Stuart Barton, from Greater Manchester Police, said: "Undoubtedly, this recovery of a very dangerous machine gun has saved people's lives.
"I would therefore like to praise the swift response of the officers who chased after these men as they had no idea the offenders were carrying such a weapon."
"I would however like to make it clear the officers were not threatened and the firearm was neither directed at them or fired in any way."