Rio Smedley 'was not injured' by grandmother's dogs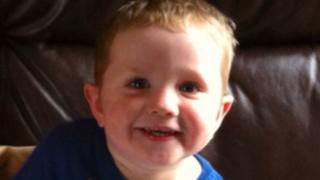 The grandmother of a man accused of killing a two-year-old boy has told Manchester Crown Court her dogs did not cause any of the toddler's injuries.
Daniel Rigby, 23, of no fixed abode, has denied murdering Rio Smedley, who died with 91 injuries on 22 April.
He has claimed his grandmother Doreen Rigby's dogs caused the toddler to bang his head the day before he died.
However, Mrs Rigby said her dogs had been "well behaved" during the boy's visit to her home.
Rio Smedley, the son of Mr Rigby's girlfriend Kirsty Smedley, died of a ruptured liver on 22 April
The trial has previously heard that the injuries were likely to have been caused by "heavy blows" from "punches, kicks, knees and stamping".
'A bit pale'
Mrs Rigby was asked by prosecutor Simon Phillips QC about the visit her grandson had made to her house in Tyldesley, Wigan on 21 April.
The grandmother cried as she said Rio had been "a bit quiet for a little boy".
She added that he had been "a bit pale, but he was cold, I think", adding that he had "seemed fine" when he left her house later in the evening.
The jury heard that the toddler had been sat in a chair where her two dogs often sat but that Mrs Rigby could not remember Mr Rigby telling her that one of them had knocked the boy on to the floor.
Mrs Rigby said her dogs were "well behaved" during the visit, though one of them could be "clumsy".
She added that she was "a bit deaf" but that she thought Mr Rigby and Rio had "laughed a lot" while at her house.
Mr Rigby, originally of Tyldesley, held his head in his hands as his grandmother gave her evidence.
The case continues.