Right to roam protester Benny Rothman honoured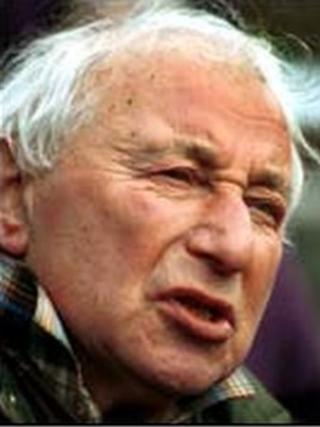 An estimated eight million people now enjoy rambling in the Peak District every year.
But what many enjoying outdoor pursuits do not know is that their "right to roam" was won by men who sacrificed their own freedom to gain access to the countryside for all.
In 1932 wealthy landowners had exclusive use of large areas of moorlands for grouse shooting.
Walkers were kept out by guards, until that is a group of working class people from Manchester and Yorkshire staged a mass protest by fighting their way up Kinder Scout, in Derbyshire.
The 400 campaigners were led by Benny Rothman, who was one of five men jailed for up to six months for their part in the "riotous assembly".
The event is credited by many with starting a movement that paved the way for the establishment of national parks.
Now Mr Rothman, who died in 2002, has been honoured for his contribution with the unveiling of a blue plaque on his former home in Crofton Avenue, Timperley, Greater Manchester.
'Brandishing sticks'
In a BBC interview in the 1980s, he said: "It was possibly a naive idea that if enough ramblers went on a ramble, no group of keepers could stop them because there would be more ramblers than keepers.
"We went up the bank from William Clough in one long line and as we went up the bank, the person in charge of the keepers gave instructions to the keepers to come down the bank and meet us halfway.
"They did that and there must have been a dozen or slightly more brandishing their sticks and shouting 'get back'.
"Of course we just ignored them or pushed them aside until we got to the top."
Mr Rothman's son Harry, who now lives in Powys, mid Wales, unveiled the plaque at the house where he grew up and where his father remained until shortly before his death aged 90.
Retired professor Harry, who followed in his father's footsteps by specialising in environmental issues, said: "He would have been very surprised and proud to see the plaque and he would say it's down to the work of lots of other people at the same time."
Harry said that around the time of the protest's 50th anniversary people began to look back and recognise its significance.
But it was only after his father's death that Andrew Robert Buxton Cavendish, the 11th Duke of Devonshire, offered a public apology for the "great wrong" done by his grandfather to the ramblers on his land.
'Changing of history'
Prof Rothman said: "He [Benny Rothman] would have loved the chance to have a chat with him.
"He was a very optimistic man and he made the best of it when he went to prison.
"He said it was very educational and he wasn't forgotten in there, he got visits from important legal people concerned they had been unfairly treated.
"It didn't put him off campaigning, he went on campaigning on environmental issues most of his life."
Mr Rothman did live to see the Countryside Rights of Way Act passed by Parliament in 2000, ensuring the freedom of the countryside for future generations.
Roly Smith, friend of Mr Rothman and a walking guidebooks author, said: "It's down to them that we have got what we have today.
"Kinder Scout and places like that were forbidden and Benny and his pals decided they wanted to do something about it.
"When they went to prison it united the ramblers and eventually led to this Act."
Mr Smith described Mr Rothman as a "great character", adding: "I was privileged to call him a friend.
"He was a great campaigner for all sorts of rights - he campaigned on the Manchester third runway, the privatisation of water and many other issues."
Councillor Jonathan Coupe, of Trafford Council, said: "The honour of having a blue plaque attributed to you means you have really made an impression on society.
"Mr Rothman contributed to the changing of history and it is because of him that we are able to enjoy the local countryside as often and freely as we can today."