Rio Smedley 'murdered by mother's boyfriend'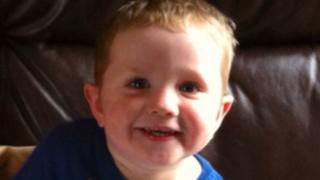 A two-year-old boy who died with 91 separate injuries on his body was murdered by his mother's boyfriend, Manchester Crown Court has heard.
Rio Smedley's injuries were likely to be caused by "heavy blows" from "punches, kicks, knees and stamping", the jury was told.
Daniel Rigby, 23, of no fixed address, denies murdering Rio.
The boy's mother, Kirsty Smedley, 24, denies allowing or causing the death of a child.
Rio died on 22 April after his mother called 999 and reported he was not moving.
She told the emergency service he had "fallen down four steps and banged his head" at their home in Cheriton Drive, Breightmet in Bolton.
The boy was taken to the Royal Bolton Hospital, but later died of a ruptured liver.
'Punched repeatedly'
Simon Phillips QC, prosecuting, told the court that pathologist Naomi Carter found 91 separate marks of injury, including 40 bruises and cuts to his head and face, 11 bruises and cuts to his abdomen, seven bruises and cuts to both his arms and 20 injuries to his legs and feet.
Mr Phillips said: "Dr Carter concluded that Rio had died as a direct consequence of blood loss from a liver injury that had been caused by one or more heavy blows to the abdomen, most likely from one or more punches, kicks, stampings or knee-ings."
He added: "Many of the bruises on his body indicated that Rio had been repeatedly punched and possibly slapped, pinched or prodded."
Some of the bruises indicated "heavy impacts" with "solid surfaces or objects", the court heard.
Mr Phillips said Ms Smedley needed to be held responsible for allowing Rio to be put in danger and it was "her duty to protect him from harm".
"She did nothing to prevent Rio being exposed to the risk of harm from Daniel Rigby" by leaving him in his unsupervised care.
Mr Phillips told the jury it would hear eye-witness evidence that Ms Smedley was punched and headbutted by Mr Rigby in the course of their relationship.
He said Mr Rigby, originally from Tyldesley, was arrested and bailed on 21 March and barred from contacting Ms Smedley.
She withdrew charges on 3 April and on 20 April - two days before Rio's death - police told Mr Rigby no further action would be taken against him.