Teacher banned over inappropriate letters to pupil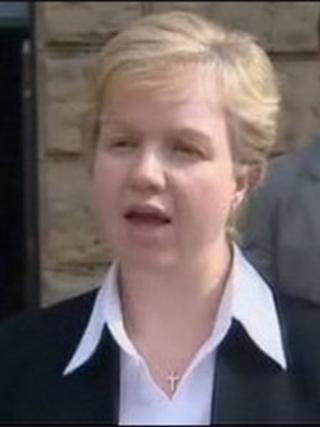 A teacher who admitted writing inappropriate letters to a 16-year-old pupil at a Cheshire school has been banned from teaching for two years.
Teresa McKenzie, 41, of Meifod, near Welshpool, Powys, wrote several letters to the pupil at Delamere Forest School between December 2007 and July 2008.
A Teaching Agency misconduct hearing was told some were addressed to "my gorgeous pirate" and "sweet pupil A".
Ms McKenzie admitted unacceptable professional conduct.
She offered witness statements from people including a teaching assistant at the school in mitigation.
The panel concluded she should be prohibited from teaching indefinitely and will not be allowed to apply for the Prohibition Order to be set aside until October 2014.
'My seafaring sweetie'
The panel heard Ms McKenzie joined Delamere Forest School - a residential and educational establishment for pupils with special needs - as a teacher in late February 2006 and was later appointed assistant headteacher.
The pupil, known as Pupil A, suffered from Attention Deficit/Hyperactivity Disorder (AD/HD) and Specific Scholastic Skills Disorder.
The panel heard he joined the school in October 2006, but was excluded the following year for threatening behaviour towards other pupils and staff.
In September 2007 he was allowed to return to the school and Ms KcKenzie became his key care worker and head of care at the school, developing a close relationship with him.
It was alleged that she failed to maintain professional boundaries with Pupil A, and engaged in inappropriate communications with him - both of which she admitted.
'Ineffective management'
No allegations were made about the pair having a sexual relationship, as Ms McKenzie was cleared of seven charges of sexual activity with a child by a person in a position of trust in 2010.
It took less than a day for a jury to unanimously clear her at Chester Crown Court.
At the time she told the BBC she had formed a relationship with Pupil A "to pull him back from the brink of suicide".
During the Teaching Agency hearing on 25 September, Ms McKenzie admitted writing two letters to Pupil A and a total of 644 text messages.
It heard the communications contained phrases including "My seafaring sweetie", "I will love you forever and ever and ever" and "I won't be able to concentrate in the meeting thinking about your beautiful eyes, strawberries and cream hair, soft hands, gorgeous laugh, strong-shoulders, delicious lips."
But the panel took into account that she was of previous good character and felt passionately about teaching.
It also concluded she had herself in a school that suffered from ineffective management and was given roles of key care worker and head of care, both roles for which she had no previous experience, training or qualifications.
The decision of the professional conduct panel was passed to the Secretary of State for Education, Michael Gove, who supported the agency's decision.
He said: "Ms McKenzie failed to observe professional boundaries, and in failing to observe those boundaries she abused the position of trust that she held with a vulnerable pupil."