Dormant cabling boosts Manchester's 'tech city' future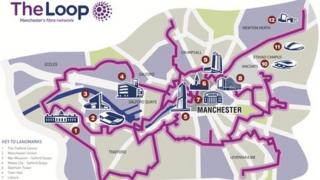 After lying dormant beneath the streets of Manchester, it now seems a decade-old network of cables could hold the key to the city's future.
The 48-mile fibre optic Loop network is being brought to life to host ultra-fast broadband at speeds rarely seen outside London - a massive boost for increasingly technology-dependent businesses that struggled to cope with too-slow internet connections and had no idea they were sat on a hidden "pot of gold".
The network, which spreads as far as Oldham and Eccles, was laid ahead of the 2002 Manchester Commonwealth Games at the height of the dotcom bubble - but went unused after the developer went into administration.
It was bought by Trafford Park-based communications company Gamma and trialled as a residential service, but abandoned after a poor uptake.
"The web wasn't used as much back then and people didn't really get what we were offering, there wasn't the thirst for very fast connectivity there is now," a company spokesman explained.
Firms complained
The relatively new company got on with other projects, while technology progressed, the digital industries grew.
The government is investing millions in increasing internet access as part of its plan to boost the economy and enable UK businesses to compete globally.
Meanwhile, Manchester City Council has started work on plans to become one of the world's top 20 "tech cities" by developing the largest cluster of digital and creative businesses in Europe, creating about 40,000 jobs by 2020.
The council is working with counterparts in New York, widely recognised as one of the world's leading digital cities, to try to realise its ambitions.
And in this new climate, as people searched for ways to get ahead in the digital age, they remembered the unused network of fibre optic cables buried below the city's streets.
Dave Carter, head of the city council's Manchester Digital Development Agency, said the authority was receiving complaints from businesses across the city unable to access top class telecoms services.
"If your company is backing up huge amounts of data overnight it can take hours and the cost for superfast services is ridiculously high in the UK compared to other countries," he said.
'Pot of gold'
"Firms complain it's slowing down their business, it's a constraint on the growth of some small businesses and some companies are put off opening in Manchester.
"The Loop opens up parts of the city that couldn't previously access superfast services, and hopefully it will help existing business to grow, and encourage more to open up here."
The first Loop customer is the Sharp Project, a group of 54 digital creative companies in north Manchester.
Project director Sue Woodward said the innovation would propel the city towards its goals.
"We already had a state-of-the-art system and the Loop has boosted it a hundred-fold - we now have unlimited capacity," she said.
"It makes us very attractive to new companies, it's a fantastic asset - it's like we've realised we have been sitting on a pot of gold."
It will also be competitively priced as the cables are ready to use, and could drive prices down due to the extra competition, according to Gamma's chief executive Bob Falconer.
He said: "Today it would cost tens of millions to install this level of cabling from scratch and cause massive disruption by digging up roads."
As part of the grand plan, next month the council will submit a bid to be chosen as a centre of digital excellence - which comes with a £24m government grant to develop technological innovation.
The authority is currently putting in place a £12m plan to make sure all residents and businesses are connected to the internet, and free public wifi is due to be in place across the city centre by Christmas.
Councillor Nigel Murphy, who oversees the Digital Manchester project, said: "We want to be in the top 20 in the world and could overtake London - it will take investment and time and people but we've got all that.
"The Loop is part of that infrastructure and gives us an edge."