Manchester drug dealer 'turf war' leads to raids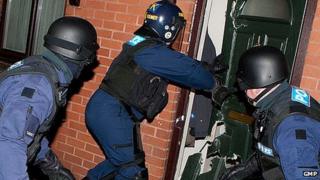 Seventeen people have been arrested in a series of raids on addresses in north Manchester as part of a police crackdown on drug and gang crime.
Officers executed warrants on 18 addresses in Cheetham Hill and Crumpsall in response to a "turf war" between "rival gangs of drug dealers".
Supt Vanessa Jardine said the operation was "a stark warning to anyone involved in drugs activity".
"Today's action is aimed at ridding our streets of this nuisance," she said.
'Increased confidence'
About 200 officers, including members of a specialist tactical aid unit, took part in the raids, which were the culmination of six months of investigation.
The arrests of 15 men and two boys were for a range of offences, including suspicion of supplying class A drugs, obstructing a police officer, possession of drugs and immigration offences.
Ms Jardine said "community reports of drugs being bought and sold in broad daylight [and] intelligence to suggest there are tensions between rival gangs of drug dealers and that a 'turf war' is developing" had led to the issuing of warrants.
She added that around 20 local business owners, councillors and residents had also joined officers on the raids to help "increase confidence in policing".
"I hope we have increased confidence by proving to the vast majority of decent, law-abiding residents of Cheetham Hill and Crumpsall that we listen to their concerns and act on the information that they give us," she said.
Rabbi Tony Walker, who lives in nearby Broughton Park, said the level of fear amongst people in the area was "crazy".
"My own wife won't go to the bank on Cheetham Hill Road, because she's frightened - and that's during the day," he said.