Newlywed Stockport mum fined over son's absence from school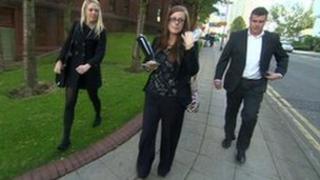 A mother has been forced to pay £280 after admitting taking her 13-year-old son out of school without permission to attend her wedding in the Caribbean.
Frances White, from Marple, Stockport, took Harrison to St Lucia and he gave her away during the ceremony.
Ms White, 31, speaking at Stockport Magistrates' Court, said she emailed Marple Hall School a year earlier to ask permission for her son's absence.
Harrison's school said permission for holidays can be given "only rarely".
Ms White said the email was followed by three phone calls, but the school's head teacher only replied a month before they went away, declining permission for absence.
Harrison missed 11 days of teaching during April while attending the ceremony, which was immediately after the school's Easter holidays.
The court heard Ms White was initially issued with a £50 fine, which doubled to £100 after she refused to pay the first.
She was then summoned to court.
'Inconsistency an issue'
During sentencing, Alf Storey, chairman of the bench, said he was not convinced that Ms White could not arrange the wedding "at other times".
He also pointed out she had taken her son out of school just after a two week break for Easter.
After pleading guilty to failing to secure regular attendance at school, Ms White was fined £100 and had to pay a further £180 in court costs.
Speaking outside court, Ms White's husband Nick Harden said he wanted the absence system to be equal.
"The issue still remains, this inconsistency is still an issue in the schools, that needs to be sorted out", he said.
In a statement, Marple Hall School said: "Although the school may sympathise with parents' requests it is obliged to follow the guidance which is clear that permission for holidays can be given only rarely.
"As a general guide this means any activity, holiday or event that can be arranged during the annual 13 week holiday time should not be authorised during the school term."