Peel Energy Trafford plant plans backed by experts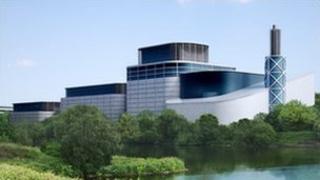 The Environment Agency has backed the building of an energy plant in Greater Manchester after councillors rejected the plans amid health fears.
Trafford Council rejected plans for a biomass incinerator in Davyhulme due to "significant public concern".
A public inquiry will be held next month after Peel Energy appealed against the council's decision.
The Environment Agency has concluded in a report that experts are satisfied the facility would not put people at risk.
It has granted the developers an environmental permit, which would allow them to go ahead with the plant if planning approval is granted.
An agency spokesman said: "We have used the most up-to-date scientific evidence and received specialist advice on health matters during this process.
"As a result we are satisfied that the proposed facility will not harm the health of local people or the environment."
'Completely irresponsible'
The Barton renewable energy plant would burn waste wood.
Campaigners against the plant formed the Breathe Clean Air Group (BCAG) to fight the proposal, which they believe would result in pollutants being pumped into the air.
Mason Corbishley, of BCAG, said the group was seeking legal advice on challenging the Environment Agency's decision.
He added: "We view this decision as completely irresponsible.
"It's already a highly polluted and highly populated area and we want to know what they will do to clean up the air."
Council planning officials had recommended in their report to councillors they should approve the plans in November 2011.
But councillors decided the site near Barton Bridge was not far enough away from residential areas and the scheme could have had an "adverse impact on the regeneration of the local area".
Jon England, of Peel Energy, said: "We hope the majority of residents will be reassured by the conclusions reached by the Environment Agency's health and environmental experts."