Metrolink: 'Sorry' over 10,000 complaints in a year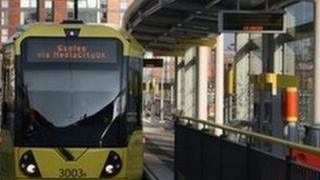 Tram bosses in Greater Manchester have apologised to commuters after receiving 10,000 complaints last year.
The majority of issues about the Metrolink service were about delays, which the company said was down to old trams which will be replaced by 2014.
A Metrolink spokesperson said 22m journeys are made on the trams each year, meaning less than 0.05% of journeys resulted in a complaint.
The information came from a Freedom of Information request.
About 1,500 complaints were made about ticket vending machines and 280 were made about the conduct of drivers and staff.
The remainder were made up of complaints in categories including accessibility, car parks, signage and tickets.
Susan Wildman, director of corporate communications and customer service, said: "We are always sorry if Metrolink's performance gives passengers cause for complaint.
"There are times when disruption is due to circumstances beyond our control - for example, unexpected road closures, medical emergencies involving passengers and vandalism or cable theft."
Ms Wildman said many delays were caused by problems with the older trams, which will be replaced with a new fleet by 2014.