Saiba Khatoon: Man jailed over Rochdale pregnant mother death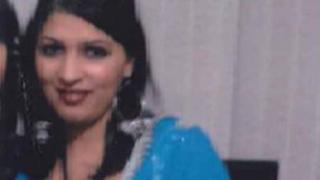 A taxi driver has been jailed for life for stabbing his pregnant lover to death in Rochdale.
The body of Saiba Khatoon, 26, was discovered at a house in Darlington Road, Kirkholt, on 7 May.
Her seven-year-old son had run to neighbours for help after finding his dying mother in the kitchen, Manchester Crown Court heard.
Siraj Arif, 31, of Armstrong Hurst Close, Smallbridge, pleaded guilty to her murder.
He was told he must serve a minimum of 21 years in prison.
Judge Michael Henshell said: "It was a merciless and sustained attack on a young woman in her own home who was 18 or 19 weeks pregnant, while her seven-year-old son was in the house."
'Snapped' during fight
The father of three had been married for 10 years to wife Nazia but had also "married" Ms Khatoon in an Islamic ceremony, the court heard.
On the day of the murder Ms Khatoon's sister, Sara Ali, had visited Arif's family home to confront his wife for allowing her husband a second "marriage".
Ms Ali had told Nazia about Ms Khatoon's pregnancy, leaving her very upset, the court heard.
Hours later, after finishing work, Arif went to see Ms Khatoon and claimed to have "snapped" and stabbed her during a fight.
She suffered 15 stab wounds, including two punctures to her heart and wounds which went through her body and injured her spine.
In a call to police before giving himself up, the court heard Arif told officers: "We had a fight. She picked a knife up and she told me she was going to kill my baby or I'll kill you.
"We ended up having a fight and I ended up grabbing the knife and shoving it in her - that's what I did."
Andy Tattersall, senior investigating officer for Greater Manchester Police, said: "This was a brutal attack on a woman he professed to love.
"Saiba was a popular woman and her murder has deeply affected all of her family and many friends.
"She was pregnant with her second child and was looking forward to becoming a mother again.
"She leaves behind a son, who will now grow up without his mum."