Cadishead green cloud caused by fire at Lanstar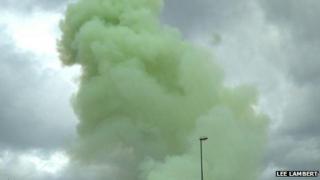 A green smoke cloud that appeared in Salford was caused by a fire at a waste disposal site, fire bosses said.
Crews were called to the fire involving equipment at Lanstar Chemicals Limited on Liverpool Road, Cadishead, just before 14:00 BST.
The fire was out when they arrived and crews are working with the company's management to assess the situation.
Greater Manchester Fire and Rescue Service (GMFRS) said no hazardous chemicals were involved in the blaze.
A GMFRS spokesperson said: "It was a fire involving a drum-shredding machine. The on-site staff had managed to put out the fire using soda ash.
"The green tinge in the smoke was the result of phosphorus which the on-site chemist said was nothing more than normal smoke and not harmful to the public."