Manchester United's Ryan Tunnicliffe on drink-drive charge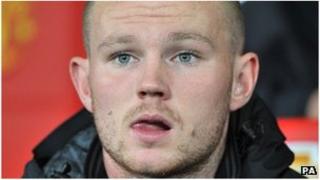 Manchester United midfielder Ryan Tunnicliffe has been charged with drink-driving after a car collided with a van in Greater Manchester.
Mr Tunnicliffe, 19, of Heywood, near Rochdale, was arrested after the crash on Saturday afternoon.
Police said a Range Rover collided with a van in Green Lane, Heywood. The van then collided with the wall of a house.
Mr Tunnicliffe was charged with driving with excess alcohol, Greater Manchester Police said.
He is due to appear at Bury Magistrates Court on 25 October.
Officers said the front seat passenger of the Range Rover suffered a minor whiplash injury in the collision and both vehicles were badly damaged.
The midfielder made his Manchester United debut against Newcastle United in the Capital One Cup last month. He was on loan to Peterborough United last season.