Sentence for PC deaths T-shirt 'affects free speech'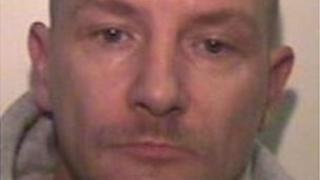 A North West MEP has condemned the prison sentence given to a man who wore an offensive T-shirt on the day two police officers were shot and killed.
Barry Thew, 39, was arrested wearing the top with anti police slogans on hours after the deaths of PCs Fiona Bone and Nicola Hughes in Mottram.
He admitted a public order offence on Thursday and was jailed for four months at Minshull Street Crown Court.
Liberal Democrat Chris Davies said he should be entitled to free speech.
'Slippery slope'
"I think even offensive idiots should have the right to freedom of expression in a free society," he said.
"I don't know how you draw the line if you don't allow that.
"I think it is completely wrong for someone to try and incite someone to commit a criminal act or to kill a policeman or anyone else."
He added that when people are locked up for expressing an opinion "we are on a slippery slope".
Police said Thew, of Worsley Street, Radcliffe, had been arrested after being seen wearing the T-shirt in Radcliffe town centre "just hours" after the constables died in a gun and grenade attack in Mottram, Greater Manchester, on 18 September.
PCs Bone, 32, and Hughes, 23, died after being called to a house in Abbey Gardens.
Dale Cregan, 29, has been charged with their murders.