Sabina Akhtar inquest: Police told of husband's 'slaughter' threats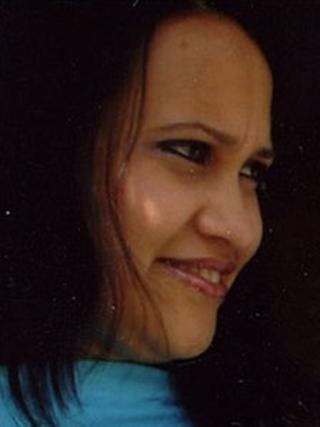 An inquest into the death of a woman murdered by her husband has heard details of his threats to kill her.
Sabina Akhtar, 26, was stabbed through the heart by Malik Mannan at their Levenshulme home in 2008.
Manchester Coroner's Court was told she had reported his threats to "get a knife and slaughter you" to police two months before she died.
Her inquest was ordered to be reopened in 2011 due to concerns over breaches to her human rights in the case.
Mannan was arrested four days before the murder for breaching bail conditions put in place following her reporting of the death threats, but was released without charge.
The 36-year-old was jailed for life in March 2009 for stabbing Ms Akhtar to death at their home on Charlton Road in Levenshulme in September 2008.
Following his conviction, the Crown Prosecution Service apologised to Ms Akhtar's family before Mannan was sentenced, saying it had been "wrong" not to charge him earlier.
Ms Akhtar's relatives allege "stupidity, lack of organisation and inertia" on the part of Greater Manchester Police in the case.
'Mental torture'
At the reopened inquest, Ms Akhtar's police statements taken two months before she was killed were read out by Andrew Tattersall, a senior investigating officer from Greater Manchester Police.
In them, Ms Akhtar said Mannan had assaulted her and made threats to kill.
She told police that she was suffering from "mental torture" and that her husband had told her "you have to listen to me, your opinion does not matter here. One day I will kill you".
She had added that Mannan had grabbed her by the throat several times and said he was "going to get a knife and slaughter you".
Mannan was arrested, questioned and then released on police bail.
He was re-arrested four days before murdering Ms Akhtar for breaching that bail but was released and continued harassing her.
In August 2011, Mr Meadows quoted "an arguable breach" of Article 2 of the European Convention on Human Rights, which relates to the right to life, for the unusual step of reopening the inquest.
At the start of the reopened case, he said although there was no intention to blame any individual for her death, he could recommend action to be taken to "prevent something like this happening again".
The inquest is expected to last for three weeks.