PCC election: 'No trust in politicians' say Salford voters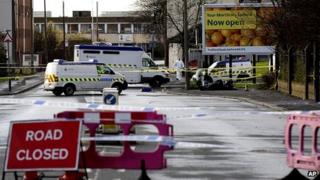 Six shootings in a year and a murder which made international headlines might suggest there is plenty to debate in Salford ahead of the first police and crime commissioner (PCC) election in Greater Manchester.
Salford's reputation was sullied by reports of how Kiaran "Psycho" Stapleton shot Indian student Anuj Bidve on Boxing Day 2011 in a random attack.
His trial suggested a city where lawless teenagers shot total strangers for no reason.
In the past month concerns have arisen over a series of gang shootings. Salford Council issued its first gang injunctions banning four men from parts of the city.
Yet among the voters there seems to be little awareness, appetite or enthusiasm for this radical change in the way the police force is managed.
Elections for police and crime commissioners will take place on 15 November in 41 police force areas across England and Wales.
Commissioners will be responsible for appointing the chief constable of each force, setting local policing priorities, reporting annually on progress and setting out the force budget and community safety grants.
The government says commissioners are not there to run local police forces but to hold them to account.
'What election?'
But in Pendleton Precinct, scene of the worst rioting in Salford in the summer of 2011, even victims of crime struggle to understand the election.
Samina Sathwilkar, whose family computer repair business and home were looted and torched, said: "I don't really know what I am voting for."
Mrs Sathwilkar said she was grateful to the police for their support after the riots, but added that she needed more information about what the new commissioner would do for the victims of crime.
Irlams o 'th' Height is the scene of two recent shootings and one of the places the banned gang members are barred from entering.
David Heyes, who owns a DIY shop there, said: "I didn't know there was an election. I don't think I will be voting."
He added: "I'm quite happy with the service I'm getting they [the police] seem to be doing a good enough job."
Florist Tony Pulo was also happy with policing in the neighbourhood and saw no need to vote.
"There may have been a couple of shootings and that has been about it but it is no different to anywhere else," he said.
'No confidence'
One woman, who did not want to be named, said: "I will be voting. There has been a spate of crimes and we need to know who is doing the job for us."
Back at Pendleton other voters such as Thomas and Denise Garry were sceptical of any politician running for the post.
Mr Garry said: "I have lost confidence in elections after what's happened in the last few years I just don't trust politicians."
His wife, who also said she would not vote, added: "I just want to see more police on the street."
Nominations close at noon for the election and the candidates admitted it will be difficult to mobilise the two million strong Greater Manchester electorate from a standing start.
The currently declared candidates in Greater Manchester fear the forthcoming election could suffer from low turnouts - 17% turnout was recorded in Ordsall ward in May's first mayoral election.
"Overcoming ignorance and apathy is the challenge for all of us," said Conservative candidate Michael Winstanley.
'Great opportunity'
Steven Woolfe, from the UK Independence Party (UKIP), said the government and the parties needed to embark on a major campaign to raise awareness of the election.
"This is a historical change with the power over a £260m budget handed to one person and people don't know enough about it," he said.
Liberal Democrat candidate Matt Gallagher said voters needed to realise the opportunity that is on offer.
"If you are unhappy with an individual officer or officers you have the Independent Police Complaints Commission (IPCC), but who do you complain to if you are unhappy with the whole force," the retired police inspector said.
"Currently you could write to the chief constable who might send you a nice letter but after 15 November you will have somebody to complain to directly," he added.
Labour's Tony Lloyd thinks the electorate should be aware of how important the commissioner' s role will be in setting the agenda for Greater Manchester Police in the new era.
"There has to be a resolute response to the government as the cuts are going to take out one in five policemen," said Mr Lloyd.
"That is going to make a big difference to our policing."