Lord Morris of Manchester memorial takes place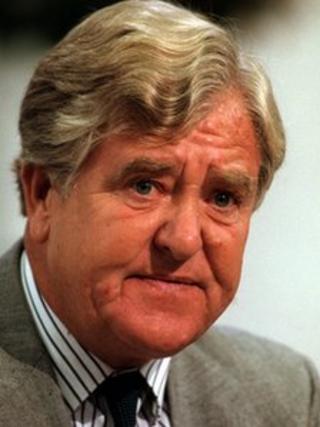 A memorial service has been held for Lord Morris of Manchester, who died in August aged 84.
Lord Morris was an MP in the city for 33 years and the driving force behind the UK's first disability rights legislation.
The service was held at St Anthony's RC Church in Wythenshawe, the constituency he served from 1964 to 1997.
At the service, his son Paul said Lord Morris had "believed he was as good as anyone and better than no-one".
He said his father had the "qualities of love, generosity, determination, strong will, pride, good humour, tenacity and passion" which underpinned both his private and public life.
He added that Lord Morris's "core values, beliefs and character were forged in his Manchester childhood" which had "taught him the importance of strength and family".
"Throughout his life, he believed he was as good as anyone and better than no-one, and he accorded the same respect for both princes and paupers and everyone between," he said.
'Important work'
Lord Mayor Elaine Boyes, said he had "made a very real difference to people's lives".
"My thoughts and sympathy go out to Lord Morris's friends and family while we remember his important work," she said.
Following his successful introduction of the Chronically Sick and Disabled Act in 1970, the first act to recognise and give rights to people with disabilities, Lord Morris became the world's first Minister for the Disabled in 1974.
In 1997 he was made a life peer in recognition of his work.
Lord Morris's friend, the Manchester Central MP Tony Lloyd, said the peer had "changed the way we think about the world we live in".
"The world, frankly, is a much better place for people with disability because Alf Morris helped to change hearts and minds," he said.
He is survived by his wife, Irene, whom he married in 1950, and their two sons and two daughters.