Denis Livesley unlawful death verdict overturned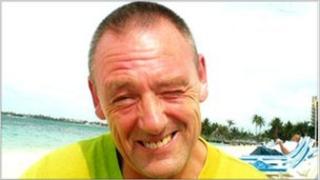 An unlawful death verdict recorded on a breakdown driver who was killed on the M60 in Sale, Greater Manchester, has been overturned by the High Court.
Denis Livesley, 60, from Oldham, died when a car driven by Sophie Wilkinson, 24, of Bolton, crashed into the back of his recovery truck in December 2009.
An inquest jury reached a verdict in June 2011 he was unlawfully killed.
But the High Court quashed it and, with the agreement of all parties, replaced it with one of accidental death.
Ms Wilkinson was driving a Volkswagen Golf in heavy snow when she hit Mr Livesley, a grandfather-of-eight, as he was loading a car involved in a crash on to his recovery vehicle near junction six.
'Fact-finding exercise'
Ms Wilkinson's car had skidded on ice as she tried to leave the M60 in Sale.
The Crown Prosecution confirmed it would not prosecute Ms Wilkinson over Mr Livesley's death but she applied to the High Court to have the inquest verdict overturned.
Her barrister, James Maxwell-Scott, said she "felt passionately" an unlawful killing verdict should not be available in cases like hers.
He said introducing unlawful killing verdicts at inquests risked injecting an inappropriate element of blame into what should be a straight "fact-finding exercise" and not a trial.
Verdicts of unlawful killing were appropriate for cases where manslaughter or infanticide is suspected, but not for road accidents such as this, he argued.
Mr Justice Foskett, sitting with Judge Peter Thornton QC at the High Court in London, ruled the verdict of unlawful killing was "restricted to murder, manslaughter - including corporate manslaughter - and infanticide".
They ruled the Stockport Coroner John Pollard who presided at the inquest "was wrong to leave the offences of causing death by dangerous driving and causing death by careless driving to the jury as possible bases for unlawful killing".
The case was of general importance, the judges said, as it clarified the law relating to road deaths which they said was causing "a divergence of view" among coroners and needed to be resolved.
They said: "The offences of causing death by dangerous driving, causing death by careless driving and other driving offences where death is caused do not fall within the scope of a verdict of unlawful killing in the coroner jurisdiction.
"The prospect of hundreds of cases each year being considered, by a coroner or a jury, as potential cases of unlawful killing because of some possible careless driving is alarming, would involve a disproportionate amount of time and expense and would take into the inquest process something it is less well equipped to consider than either a criminal or civil court."
The judges also ruled a fresh inquest on Mr Livesley's death was "not in the public interest".