Salford Council bans 'crime linked' gang from its city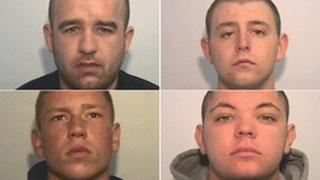 Four gang members suspected of being involved in organised crime have been banned from parts or all of Salford.
Salford City Council has used new legal powers for the first time to prevent the four from entering certain areas.
The council was granted interim civil orders by Manchester County Court on Monday following several shootings.
Jacob Harrison, 19, Kane Stafford, 21, Carne Thomasson, 22, Leevon Birchall, 19, were served orders lasting a year, to be reconsidered at a future hearing.
Stafford is banned from the city of Salford apart from travelling through it on the M60 motorway or attending medical or dental appointments by prior notice given to Greater Manchester Police.
Curfew order
Harrison and Birchall are barred from entering the Duchy Estate, Ellesmere Park and Doveleys Road, Irlams o'th' Height, while Thomasson is prevented from entering the Duchy Estate or Ellesmere Park.
Don Brown, assistant director for community safety at Salford City Council, said: "This is the first time we have used these powers to minimise the risk of further gang related violence in our communities."
A council spokesman added: "We are publicising these individuals so that if they are spotted breaching these orders they can be reported to the police."
The four are also banned from communicating with each other and seven associates thought to be involved in organised criminal groups.
They have been handed curfews and must be at their registered addresses between 21:00 and 05:00 and must present themselves to any police officer who knocks on their front doors.
In January 2011 local authorities were given the power to apply for civil injunctions, after consulting with other agencies, as a way of dealing with gang related violence, as an amendment to the 2009 Policing and Crime Act.