Soldier's mother killed herself after son's Afghanistan death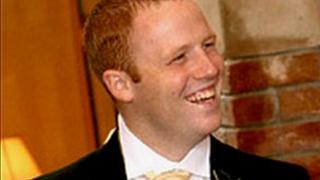 A soldier's mother from Manchester killed herself after suffering depression over the death of her son in Afghanistan, an inquest has decided.
Gillian Atherton, 47, died from carbon monoxide poisoning in her flat in Stretford earlier this year.
Her son, Guardsman David Atherton, 25, was shot during a battle with Taliban insurgents in July 2007.
The Stockport inquest was told she had a history of depression related to the "tragic death".
Mrs Atherton's body was found in the upstairs of Jaffs Cafe, which she reportedly named after her son who had the nickname Jaffa.
She opened the business, on Moss Road, in 2009.
Warning letter
Giving evidence, Mrs Atherton's daughter Kelly said her mother had debts of about £12,000 and worked long hours, but she noticed nothing untoward in the days leading up to her death on 11 April.
Police were called after Mrs Atherton was found lying on her bed.
Det Insp Debbie Oakes told the hearing: "As soon as we walked in, there was a letter saying 'carbon monoxide'.
"Obviously she wanted to warn everybody - I thought that was quite touching."
She added: "There was a previous history of depression in her life, which is understandable given her son's tragic death."
After inquiries, Greater Manchester Police were satisfied there was no third party involvement.
In a statement, Dr Nicholas Singleton, Mrs Atherton's GP, confirmed the depression was in relation to her son.
Stockport assistant deputy coroner Christopher Murray said he was "satisfied beyond all reasonable doubt" it was her decision to take her own life.
Guardsman Atherton was serving with 1st Battalion Grenadier Guards at the time of his death in southern Afghanistan.