Oldham and Wigan win at Britain in Bloom awards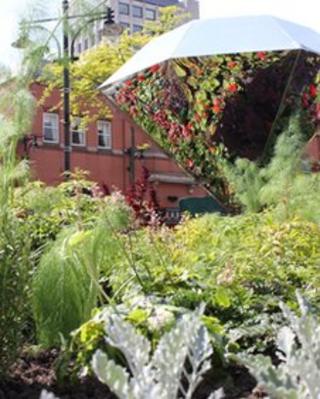 Oldham has won the 'best city' title and a silver gilt award for community involvement at the Britain in Bloom awards at the first attempt.
Although Oldham is a town, entries in the 'best city' category are based on the size of the electoral roll.
Wigan also won a silver gilt award in the 'best large city' category at the Royal Horticulture Society's awards ceremony held in Guernsey on Saturday.
Oldham councillor Jean Stretton said she was "ecstatic".
She added: "To participate in such a prestigious event is a real honour [but] to win these two categories has added a real sense of achievement and reflects the hard work, dedication and commitment from all who have been involved."
Oldham's community award entry called included the town centre's WOW bed, the underwater bed on Broadway and the wild flower meadow at Mill Brow.
Oldham beat Chester and Preston to go forward as the North West representative in the UK finals.
Wigan's winning entry saw volunteers create a floral display for Hindley Train Station and set up allotments at St Peter's Primary School.
More than 1,200 communities entered the 2012 Britain in Bloom awards.