Salford and Eccles MP Hazel Blears calls for gun amnesty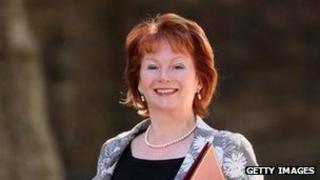 Salford and Eccles MP Hazel Blears has called for a gun amnesty following a spate of shootings in Salford.
Two arrests have been made in relation to six shootings in Salford during September, which police said were the result of a feud between two gangs.
No-one has been injured in the shootings but Greater Manchester Police has issued a "significant number" of threat-to-life warnings.
Salford's first ever gang injunctions have also been granted to the police.
Additional officers
Ms Blears attended a meeting with residents and senior police officers at The Height Methodist Church in Irlams o' th' Height on Friday.
She said she backed a resident's suggestion for a gun amnesty in which residents are given the chance to hand in illegal firearms at police stations.
Labour MP Ms Blears said the community had welcomed the police response to the shootings.
She said: "Police have put out more than 2000 leaflets to all residents setting out exactly what happened and setting out what action is being taken and I think the relationship with the police in that area is excellent."
Ch Insp Dave Henthorne said: "We have been bowled over by the public's support since these incidents and it is clear that people appreciate seeing additional officers on the streets."
The shootings have taken place on the Duchy estate, in Eccles and Irlam o' th' Height.