Sir Peter Fahy's thanks for shot PCs' funerals support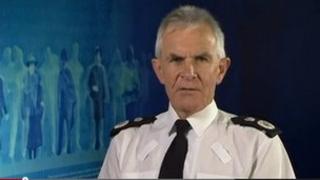 Greater Manchester Police's (GMP) chief constable has thanked officers from other forces who lined the route for the funerals of two PCs killed on duty.
Sir Peter Fahy said officers were "publicly uplifted" over the support at the funerals of PCs Nicola Hughes and Fiona Bone on Wednesday and Thursday.
The officers had answered an appeal to help line the route so that GMP colleagues could attend the funeral.
Sir Peter also thanked members of the public for their support.
The officers were shot dead answering a routine burglary call on 18 September in Mottram, Tameside.
"In the midst of this darkness we've been hugely uplifted by the support of the public but particularly from the support of our colleagues not only across the police forces from the UK but indeed across the world," said Sir Peter in a video message posted on the force website.
Two officers from each force in the UK travelled to Manchester for the funerals.
"I just want to say a big thank you to them and to all the other officers, members of police staff and special constables across the country who have expressed their support for us at this difficult time," said Sir Peter.
He added: "In this dark week the police service has stood as one and that has meant a huge amount to us in Greater Manchester Police and the families of Nicola and Fiona and their colleagues."
PC Bone, who lived in Sale with her partner Clare and her five-year-old daughter, had served in Greater Manchester Police for five years.
PC Hughes, 23 who lived in Diggle, Oldham with her mother, had been a police officer for three years.