Greater Manchester PC Nicola Hughes' cortege met by applause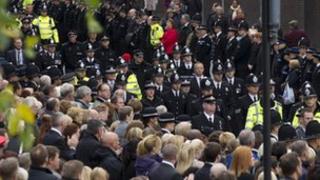 The funeral cortege for fallen Greater Manchester PC Nicola Hughes was met by spontaneous applause by the thousands lining the route in the city.
Some threw flowers at the hearse on Deansgate as police officers in full ceremonial dress silently bowed their heads in honour of their colleague.
Inside the hearse, a police hat could be seen on top of the coffin of the 23-year-old, whose family said she died doing the job she loved.
PC Hughes was one of two officers shot dead on 18 September after answering what appeared to be a routine burglary call in Mottram.
Greater Manchester Police Federation chairman Ian Hanson had urged people to stand shoulder to shoulder with police at the funeral and the thousands that lined the route did just that.
Crowds had started to gather along the Deansgate funeral procession route from 11:00 BST when the road was closed.
Silence descended on the normally bustling shopping street as people waited - some comforting each other, others quietly reflecting.
Shops emptied and builders stopped work to line up on scaffolding overlooking the road.
Det Con Ian Parker, of the Merseyside force, said officers had been touched by the public's reaction.
"On the train from Liverpool this morning people shook my hand and said they were thinking of us.
"Some people were also on their way to the funeral, it was quite touching - people have been very respectful."
Two officers from every other force in the country had answered an appeal to help line the route so that GMP colleagues could attend the funeral.
Mounted police led the procession, which was accompanied by police outriders on motorbikes and followed by officers walking.
Hundreds of other officers had travelled from across the country on their days off to attend.
Susan McElroy stood behind her uniformed husband, Greater Manchester PC Henry McElroy, wearing one of the wristbands produced in honour of the two officers who died.
She said: "It so easily could have been me losing a husband, any one of the people here, it could have been them.
"It's an amazing tribute to see so many turning up.
"The wristbands are so we remember their collar numbers - usually when officers leave the force their collar numbers are re-used, but these won't be."
Other people had turned out to show their support and their anger at what had happened.
Pensioner Kathleen Bowen, of Denton, said: "I wanted to come to respect them because of the job they do.
"Our neighbours have a son in the police and it could have happened to them.
"They were only doing their job, they didn't deserve it."