Lostock 'energy from waste' power plant given approval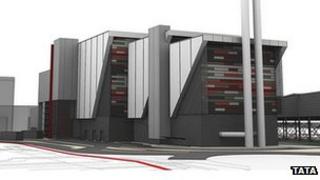 Plans to build an "energy from waste" generating station in Cheshire have been approved by the Department for Energy and Climate Change (DECC).
The proposed plant at Lostock will generate enough power to supply 80,000 homes. It will create 500 jobs during construction and 50 once operational.
The DECC's decision follows a public inquiry, which recommended plans for the plant be given consent.
A DECC spokesman said the plant would produce "low cost efficient energy".
Objections against the building of the plant were made by Cheshire West and Chester Council and campaign group Cheshire Anti Incinerator Network during the inquiry.
However, the DECC spokesman said that "after hearing evidence about all aspects of the proposed development, including its potential health and visual impacts as well the implications for traffic safety and the local environment", the decision was made to approve it.
Cheshire West and Chester's executive member for community and environment Lynn Riley said she was "very disappointed that the council's objections and the strength of local opinion were overruled".
She added the council would "now need to carefully consider the decision".
The plant, which will be fuelled with pre-treated, non-recyclable waste, will be run by E.ON Energy from Waste (EEW).
'Excellent news'
EEW director Nader Bahri said the construction of the plant meant "many tonnes of waste that would otherwise have gone to landfill could now be used to create sustainable energy".
He added the plant would also mean the nearby gas-fired power station at Winnington could operate at a reduced capacity.
The plant will supply energy to Tata Chemicals Europe's Lostock factory and the company is a partner in its construction.
Managing director Martin Ashcroft said the decision to allow the building of the generating station was "excellent news".
"As an energy intensive business, we are faced with ever-rising gas prices which are increasingly difficult to absorb," he said.
"The new plant will give us fuel price stability, which will allow us to reduce our reliance on fossil fuels and to plan our long-term future."