Manchester police deaths: 'It could have been any of us'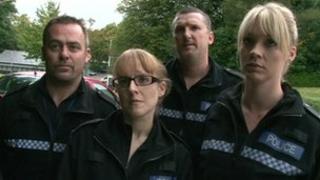 "Those two girls had been sent to the sort of routine job we go to day in day out - it could have been any one of us."
PC Mark Fairclough explained how the deaths of Greater Manchester PCs Nicola Hughes and Fiona Bone, who were shot as they attended what appeared to be a routine call to a burglary, have "hit all of us very hard".
He is one of 106 officers from across the country who volunteered to travel to Manchester to support colleagues and help police the funerals.
The service for PC Hughes, 23, takes place at Manchester Cathedral on Wednesday at 13:00 BST. PC Bone's funeral is on Thursday.
PC Fairclough, from the Bedfordshire force, said their deaths in a gun and grenade attack last month had affected colleagues not just across the country, but around the world.
'Shoulder to shoulder'
"I've had emails from police in forces all over the globe. I've got friends in Canada, America and Australia who have sent me emails," he said. "It's shocked everybody."
The Police Federation has urged members of the public to line the streets as the corteges pass and stand "shoulder to shoulder" with the police at the funerals.
PC Eleanor Berry, of the Hertfordshire force, said she had travelled to help the Greater Manchester force because "those girls died doing what they loved and that's what we're here to support".
She added that she hoped for a big turnout from the public.
Greater Manchester Police received a huge response to the Cover For GMP campaign, which requested officers from other forces to volunteer to help police the funerals so colleagues of PCs Hughes and Bone could attend.
Dale Cregan, 29, is in custody charged with the officers' murders, along with those of two other men.